Presenting the pop blockbuster of the year, Diamond-certified, Grammy®-nominated, global superstar Bebe Rexha will unveil her anticipated sophomore album, Better Mistakes on May 7th via Warner Records. Pre-order and pre-save HERE. And she teases "Sabotage," another brand new track from her forthcoming album. Listen HERE and watch the music video, directed by Christian Breslauer (Doja Cat, Lil Baby, Roddy Ricch) HERE.
About the song, Bebe revealed, "'Sabotage' is one of the most vulnerable songs on my new album, Better Mistakes. It's just as beautiful as it is painfully honest. I admit to getting in my own way when things are going well. I know I am not alone in experiencing self-sabotage during life's most precious moments, and this ballad is an acknowledgment that sometimes we are our own worst enemy."
Bebe set the stage for Better Mistakes with the radio anthem "Sacrifice." Right out of the gate, it racked up 20 million-plus streams and over 10 million YouTube views on the vampire fantasy music video. Garnering critical acclaim, Rolling Stone described it as "seductive." Bebe initially teased this chapter with the 2020 single "Baby, I'm Jealous" [feat. Doja Cat], eclipsing 55 million Spotify streams and 53 million views on the blockbuster music video.
Bebe architected a pop opus with Better Mistakes. The opener "Break My Heart Myself" [feat. Travis Barker] hinges on manic bursts of energy and her signature vocal acrobatics uplifted by stadium-ready drums courtesy of legendary blink-182 stickman Travis Barker. Creaky guitar cuts through a glitchy beat on "Die For A Man" [feat. Lil Uzi Vert] as Bebe promises, "I would never die for a man, change who I am." Meanwhile, elusive galactic hip-hop titan Lil Uzi Vert rolls through with a raw and rare cameo. Then, there's "Amore" [feat. Rick Ross]. Her confident vocals set the stage for Rozay to pull up and do what he does with a gruff and laidback flow. The record culminates on "Mama." Massive orchestral strings resound as she delivers one final anthem, this time, for her mom. The final confession says it all, "I messed up again, but I swear my heart is as gold as it gets." Check out the tracklisting below.
Powerhouse songwriter/producer Justin Tranter and Jeff Levin served as the album's Executive Producers. Better Mistakes also boasts production from the likes of Mike Elizondo, Jussifer, Michael Keenan, The Six, Lostboy Crow, and more. 
With her show-stopping voice and straight-from-the-heart lyricism, Bebe has emerged as pop's most dynamic, diverse, and disruptive outlier on her own terms. Her vocals and pen powered the RIAA Diamond-certified (10x Platinum) crossover mega-smash "Meant To Be" featuring Florida Georgia Line. Last week, the Grammy®-Nominated smash hit officially joined the extremely exclusive ONE BILLION STREAMS club at Spotify, marking Bebe's second song to cross this magic line. Bebe and Martin Garrix's "In The Name of Love" surpassed one billion streams on the platform earlier last year. Bebe now becomes only one of 10 female artists who have achieved two or more billion streaming tracks on Spotify.
Beyond over a dozen platinum singles and collaborations, Bebe's 2018 debut, Expectations, reached platinum status and spawned two platinum singles—"I'm A Mess" and "I Got You." Writing at a prolific pace and pushing herself with every subsequent song, she's sacrificed to get to the forefront of pop—and she's going to continue to reign there with her new album.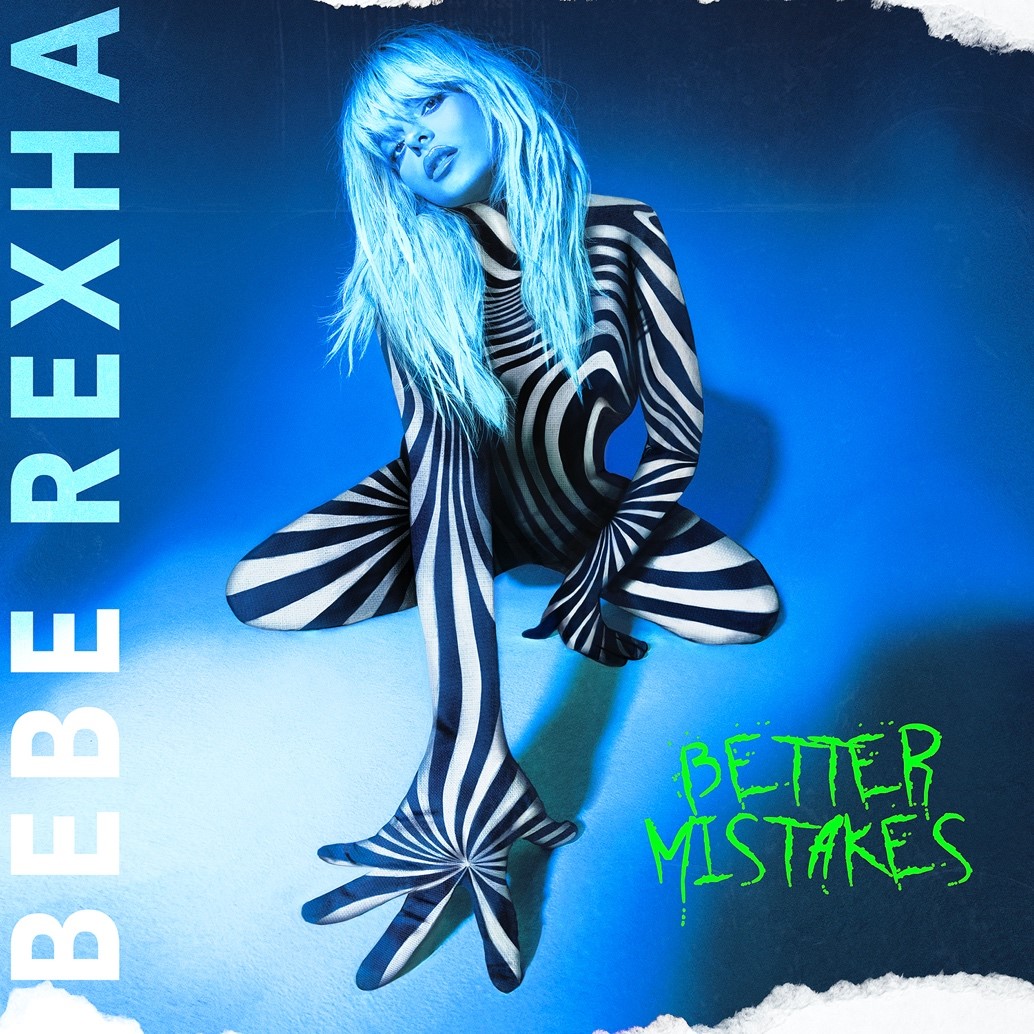 BETTER MISTAKES TRACKLISTING:
Break My Heart Myself (Feat. Travis Barker)

2. Sabotage

3. Trust Fall

4. Better Mistakes

5. Sacrifice

6. My Dear Love (Feat. Ty Dolla $Ign & Trevor Daniel)

7. Die For A Man (Feat. Lil Uzi Vert)

8. Baby, I'm Jealous (Feat. Doja Cat)

9. On The Go (Feat. Pink Sweat$ & Lunay)

10. Death Row

11. Empty

12. Amore (Feat. Rick Ross)

13. Mama
ABOUT BEBE REXHA: 
Diamond-selling and two-time Grammy®-nominated New York City native Bebe Rexha is a musical force to be reckoned with. Her RIAA Platinum-certified debut album Expectations (released June 2018 on Warner Records) contained the Platinum single "I'm a Mess" and global chart-topping smash "Meant to Be" (featuring Florida Georgia Line), now RIAA Certified Diamond.  "Meant to Be" held the #1 spot on the Billboard Hot Country Songs chart for a record-setting 50 straight weeks, the longest reign ever by a female lead artist, and won Top Country Song at the 2019 Billboard Music Awards and Best Collaboration at the 2018 iHeart Radio Music Awards. It was subsequently nominated for Best Country Duo/Group Performance at the 61st annual Grammy Awards® in February 2019, where Bebe was also nominated for Best New Artist.   
Early in her career, Bebe won the National Academy of Recording Arts and Sciences' Best Teen Songwriter Award, and then formally burst onto the scene when she wrote "The Monster," a worldwide hit for Eminem and Rihanna that was certified 6x Platinum by the RIAA. Bebe went on to co-write and carry the instantly recognizable hook for the 3x Platinum "Hey Mama," by David Guetta, which was nominated for a Billboard Music Award for Top Dance/Electronic Song.  Bebe also hit #1 on the Billboard Pop and Rap charts with her 5x Platinum "Me, Myself & I" with G-Eazy. In 2017, Bebe released the critically acclaimed EPs, All Your Fault: Part 1 (with the Platinum single "I Got You"), and All Your Fault: Part 2 (with "Meant to Be").  In conjunction with Grammy® Week 2019, Bebe launched the Grammy® Music Education Coalition's (GMEC) national campaign on behalf of its new All-Star Ambassador program, whose members also include Luis Fonsi, Rita Ora, Kristin Chenoweth, Regina Spektor and others. In October 2020, Bebe released her lead single, "Baby, I'm Jealous" feat. Doja Cat, which was followed in March 2021 with "Sacrifice," her second single from her forthcoming Spring 2021 new album.  To date, Bebe has amassed over 4 billion YouTube views and over 12 billion total global streams and counting.