The astronauts are landing.
Palestinian-Jordanian rapper and singer joins force with Somalian MC, rapper, Director and record producer from Dubai Freek on this massive remix of Australian rapper Masked Wolf's Astronaut in the ocean!
Astronaut In The Ocean is an anthem that Masked Wolf has created where one could blaze through his thoughts in a fast and animated cutting-edge style creating a song that you could knock your heads to while relating to what is being said and really delve into the lyrics.
For the remix, we have none other than The Synaptik and Freek, who each shine on this track bringing their own flavor to a territory that is known to them, self-reflection in their music, allowing both of them to steer the wheels of this track during their verses.
All 3 artists are inspired by and infuse different genres and cultures together, Masked Wolf with that touch of dark chords on a hip-hop/trap song with Synaptik's animation and flow in his classic Arabic trap sound and Freek's drill and lo-fi trap inspired style. This remix is a match made in heaven.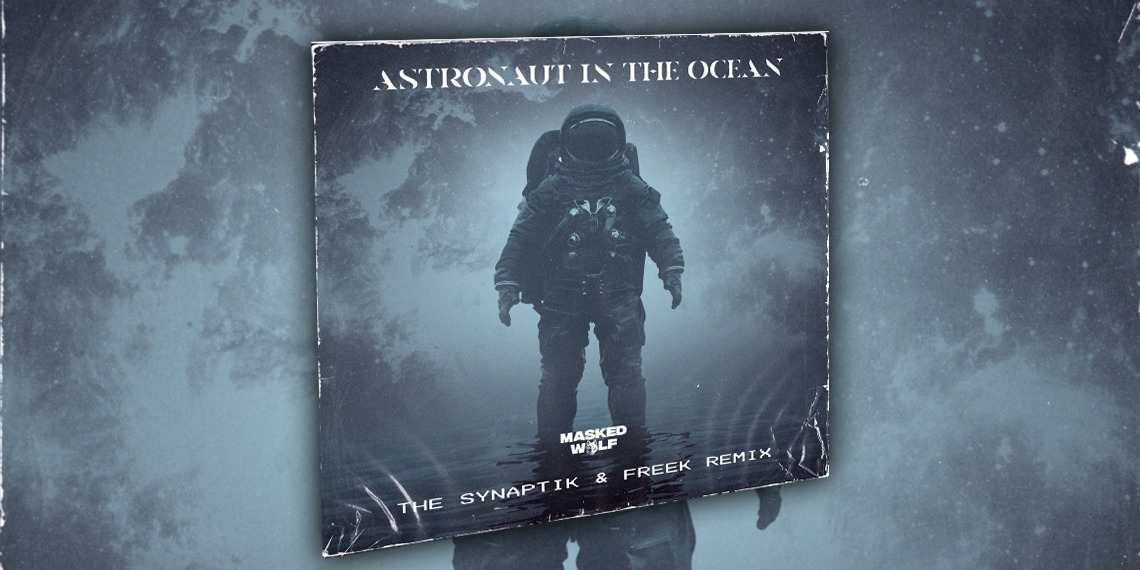 About The Synaptik
The Synaptik is a Palestinian-Jordanian rapper and singer who has pioneered a new wave of sound for young Arab music fans.  His honest and potent lyrics are highlighted by his songwriting style which effortlessly merges singing and rapping.  With a tsunami first album under his belt, dozens of local, regional and international shows to his credit, and a much anticipated second album, The Synaptik has cemented his status as one of the pillars of hip-hop in the region.  The Synaptik has collaborated with numerous artists from around the Middle East, including rap stars such as Abyusif, Wegz, Molotof, Marwan Mousa, Tamer Nafar, Maysa Daw, Bu Kolthoum, El Rass, Chyno, Mo'ayad Nufaei, Al Nather, Shabjdeed.  Based in Amman and Ramallah, The Synaptik has managed to generate more than 40 million streams and views across different streaming platforms.
About Freek
Freek, is a Somalian MC, rapper, Director and record producer from Dubai, United Arab Emirates. He is regarded as a key figure in the conception of Arabic drill rap music and often labelled the "Godfather" of the genre. Freek is considered a pioneer in the GCC underground music scene with a prolific work rate and a discography of catchy hits such as 'Wala Kilma', 'Aslan 'adi", "Shwaya" and "Mush Fadi" which propelled him in the international music scene. He has been nominated to compose a feature song in the recent Adidas marketing campaign on March 2019 for non-other than Europe's top forward player, Mohammed Salah. He's been playing on the big stages around the UAE and has been considered one of the biggest artists in the country, with major following from the local, regional and international scene. Freek opened for The Future, Gucci Mayne, Wu-Tang Clan and has finished his UK tour in December 2019 with a sold-out show in London. Following this success, Freek composed the official track for Qasimi SS21 collection and currently in the process of releasing his debut album "150".
About Masked Wolf
Transforming from a mild-mannered man by day into an unrestrained beast in the studio, Masked Wolf (aka, Harry Michael) has unassumingly established himself as a powerful, passionate, and primal hip-hop force. After graduating from school, the Sydney, Australia native tirelessly worked in sales to fund recording. He even took out a loan to build a home studio as he cut hundreds of songs and logged thousands of hours in the lab. In 2018, he dropped his independent debut "Speed Racer." It gathered millions of streams and turned heads across Australia. Following "Night Rider" and "Water Walkin," he unveiled "Astronaut in the Ocean." Awash in airy guitar, jagged 808s, neon keys, and deft wordplay, he submerged himself in honest lyricism, facing depression head-on. That one-two-punch of a recognizable riff and chantable chorus organically caught fire online. It quickly incited 350,000-plus Tik Tok videos, spanning everything from footage of U.S. military Blackhawk chopper crews to welders and ice fisherman.